Background

In 2020 WHO will release the consolidated guidelines on the treatment and management of tuberculosis (TB), based on new evidence shared by countries, research and technical partners. Several important changes including treatment of DR-TB, use of modified short treatment regimens and TB preventive treatment has been launched recently. During the COVID-19 pandemic WHO alerts the importance on ensuring essential services and operations for dealing with long-standing health problems to continue to protect the lives of people with TB. WHO is encouraging the TB health services actively engage in ensuring continuity of people centred delivery of TB prevention, diagnosis, treatment and care.
In response to these urgent changes, WHO CC Latvia in collaboration with Latvian Society against Tuberculosis and partners from TB community will host second* TB webinar on June 12 for TB clinicians and laboratory staff to introduce the updates from the WHO consolidated guidelines and the latest evidence and recommendation for diagnosis, treatment and management of TB during COVID-19 epidemic.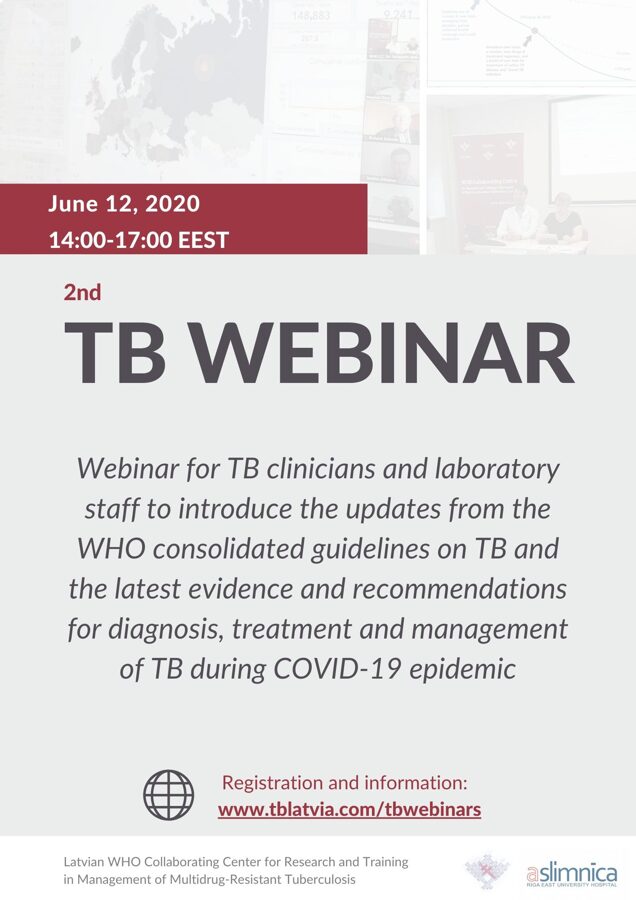 Time
June 12, 2020
14:00-17:00 EEST
Language
Language of the webinar is English with simultaneous interpretation into Russian
Target audience
TB clinicians, laboratory staff and other public healthcare staff involved in TB patients care
Registration
Only registered participants will be able to access and join the webinar
For registration, please follow this link
Deadline for registration
June 9, 2020
Certificates
Only registered participants that have attended the webinar will receive the certificate of attendance after completing the webinar evaluation form (will be sent to registered e-mail after the webinar)
Recording
The Webinar will be audio and video recorded, photographed and/or live broadcasted through web streaming

Technical information:
Webinar will be organized using Zoom.us. After succuesfful registration you will receive an e-mail notice that your registration is completed with invitation to join the webinar and technical guidance how to join in. Before joining a Zoom webinar on a computer or mobile device, you can download the Zoom app from Zoom Download Center. Otherwise, you will be prompted to download and install Zoom when you click a join link. You will be able to join a webinar from a PC, Mac, iPad, iPhone or Android devide.

* First TB webinar was organized on May 22, 2020 and gathered more than 160 participants. During the webinar participants were introduced with the updates in TB preventive treatment; WHO approach to the people centered delivery of TB prevention, diagnosis, treatment and care during the COVID-19 pandemic; current evidence and lessons learned on COVID-19 and TB; as well as the challenges to reach the EndTB strategy goals.
TB webinars are organized as a part of 4th Baltic Symposium in Riga in November 2020.

ORGANIZERS:
Latvian WHO Collaborating Center for Research and Training in Management of MDR-TB of Riga East University hospital, e-mail: mdr.tb.training@aslimnica.lv, www.tblatvia.com and Latvian Society against Tuberculosis

SPONSORS:
This event is financially supported by Johnson & Johnson and Otsuka Novel Products GmbH